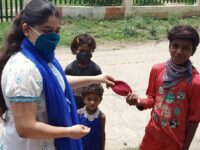 The COVID-19 has taken a big toll on us , Washing hands and using masks are the first and main defense against this deadly virus.
The Vijay Social Welfare Society is taking an initiative to provide this basic necessity to all the people around who are not aware , and people who cannot afford the masks.
MASK FOR EACH campaign has been launched. We determine to :
Provide 50,000 masks to the vulnerable population .
Make the usage of only biodegradable cloth masks.
3.Avoid the usage of synthetic masks.
4.Make everyone aware of the harmful effects of synthetic/non-biodegradable masks.
Our Aim: To reach donation of 2 Lakhs
Campaign update : Produced 20,000 masks for distributions.
Not only are doctors, healthworkers , police etc. are the cCOVID-19 Warriors. YOU can also be a covid-19 warrior by donating masks which makes you capable of saving lives too ! Come forward and donate !