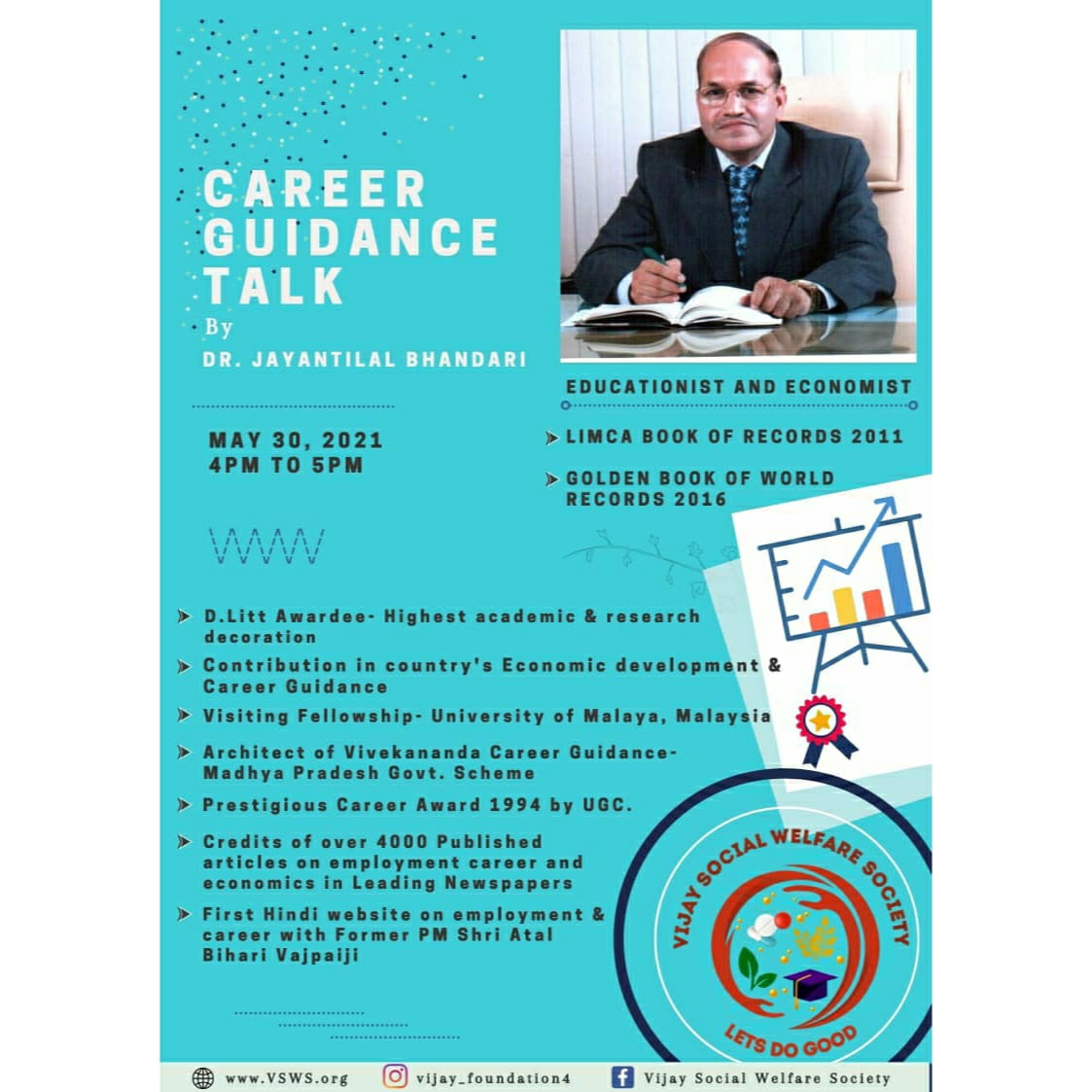 Vijay Social Welfare Society organised a Career Guidance webinar with Dr. Jayantilal Bhandari on 30th May, 2021 from 4pm to 5pm via Zoom. The session was an absolute success and various doubts kept arising each moment. The purpose of this webinar was to provide all the information related to subject selection of children, various opportunities related to the subject and preparation for competitive examinations. All the questions were fruitfully resolved.
Dr. Jayantilal Bhandari is a senior academician and economist who has been awarded the Prestigious Career Award 1994, Limca Book of Records 2011 and Golden Book of World Records by the UGC. The pandemic has changed the face of the employment condition in the country, hence, the new generation need to adopt the newer ways.
According to a report by Mekeji, by 2030, a new generation will come up, more equipped digitally and will be in a state of profit. Career expert Dr. Jayantilal Bhandari expressed in the webinar that around 10 crore traditional jobs have been transformed digitally. He said that now various government jobs will grow rapidly to handle the crumbling administration from Covid-19. Career opportunities in science, travel and tourism, food processing, pharmacy, insurance, yoga, nursing, hospital management, etc. will increase by leaps and bounds.
Opportunities for the new digital generation of India will increase not only in the country but also in many developed and developing countries of the world. Dr. Bhandari said that while there will be 2 crore new jobs in digital economy for the year for Indian youth, 10 lakh cyber security professionals will also be needed in the travel and tourism sector in India by 2028. New jobs will be created. The Indian IT sector which is about $ 191 billion in the year 2020, can reach a height of $ 350 billion by the year 2025.
A large number of youth will have to be equipped with good English, computer proficiency, and new skills in the digital era, including communications. By doing so, India will be seen to be the third largest economic power in the world by 2030 on the strength of the new generation.
Fields like Children's Engineering, Medical, Law, Defense, Architecture, Journalism, administrative service etc will have a huge impact on the job sectors. Questions related to almost every field were asked, which were told very easily by Dr. Bhandari, and how could the difficulty of the children be solved in a pre-planned manner by him in easy words.
The session lasted for 2 hours, initially the scheduled time was 1 hour. he program was conducted by the Institute Secretary Smt. Madhuri Moyde. At the end of the program, thanks were expressed by Madhavi. Career Guidance Talk was attended by around 100 children and their parents and teachers.